From: Cheryl Ferguson
Date: Fri, 2 Mar 2001 10:11:42 -0700
Greetings!
I wanted to bring to your attention a problem that we have with one of our inactive members.
Scott Goold is sending emails to a large number of people -- in New Mexico as well as across the world -- stating that MASCOT has taken the position that we SUPPORT making possession of tobacco products illegal for persons under 18. As those of you who have been attending meetings know, we have NOT taken that position -- or any position on the issue. The only discussion of that issue was at our last meeting where we announced that Representative Debbie Rodella had introduced a bill in the legislature, which would make possession illegal. This bill was only mentioned but there was no discussion nor was there a formal vote taken by the group either for or against the bill. Essentially Scott is using the name of the coalition to support his own opinion.
In addition to the emails, Scott has a website -- www.mascotcoalition.org -- which discusses various tobacco issues and purports to be the coalition's "official" website. Last year, the Department of Health, which initially supported the development of this site, withdrew its support. The MASCOT site was on several coalition meeting agendas but this issue was never addressed. It appears that now we must address this matter.
Also on this site, Scott states that "MASCOT members support youth possession law" and provides a link for individuals to send an email letter to Representative Rodella supporting her bill.
I bring this to your attention because I think that it is important for you to know that an individual is using our name but without our knowledge or support. I think this is something that needs to be quickly addressed at the next meeting.
If you would like to discuss this with me further, please contact me at the number listed below or via email. If you would like to contact Representative Rodella about her bill, House Bill 704, she can be reached at 505.986.4248 or via email at Debbie.Rodella@state.nm.us
Thanks for your support!
Cheryl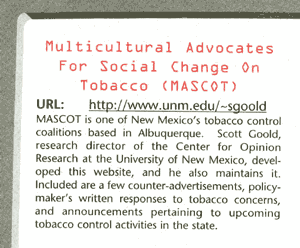 The image above highlights an announcement of the original MASCOT Coalition site to many tobacco control advocates in New Mexico.
Source: ON TARGET, Newsletter of Tobacco Control in New Mexico and New Mexico ASSIST, June 1998.
Scott Goold initiated the MASCOT Web project in 1997. In late 1998, Scott began moving the site to www.mascotcoalition.org. Scott has been developing content for the MASCOT project for nearly four years. Scott submitted a proposal to the New Mexico Department of Health in 1998 for partial funding to assist his efforts. That project ended in 1999. Scott and other MASCOT contributors continue their dedicated efforts to help reduce teen smoking, promote smoking cessation and further pro-health policies in New Mexico and around the world.
MASCOT members invited any, and all, interested community members to participate in the Legislative Action Strategy session at the last monthly meeting (see MASCOT Calendar). MASCOT members engaged local as well as national policy leaders in a spirited review of the teen tobacco possession issue during February.
For the record, Ms. Ferguson chose not to participate. We wish Ms. Ferguson all the best in her efforts.